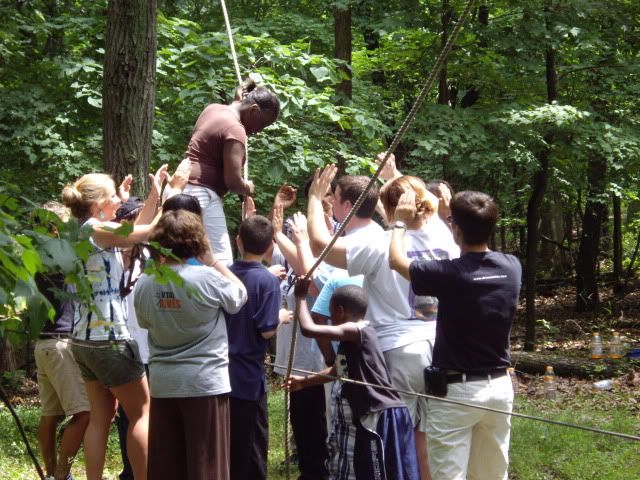 Name
Katy
Favorite color
Aqua
Describe yourself in 3 words
Easy going, Adventurous, Optimistic
What inspires you
Nature, Traveling, and people who overcome obstacles
Something you are proud of
4 years competing on a Division I Rowing Team
Favorite art medium
gel medium for ink transfers and mixed media
An artist who inspires you
Lately, I've been really into an artist,
Catherine Nash
. I love her mixed media work and it, along with the upcoming
art show
for art therapists :) has been helping me get motivated to get back into creating art I'm excited about again.
Favorite quote
"Go confidently in the direction of your dreams....live the life you have imagined." -Thoreau
"What doesn't kill you makes you stronger." -K-State Rowing Coach (Nietszche)
What brought you to art therapy
I was always creatively minded and was interested in working with people who are in need; art therapy seemed to be the marriage of the two. I am from Kansas City and went to Emporia's "Art Therapy Discovery Day" in highschool which set me on the path towards pursing Art Therapy as a career.
Population you work with
Students age 7-21 who have social, emotional, and behavioral problems that prevent them from attending the public school. Our goal is to support them with their therapeutic and educational needs and in hopes of an eventual successful transition back into the public schools. I really love working in a school setting and building relationships with my students. I get to witness the challenges my students face on a daily basis, sometimes work along side them to support them, and collaborate with the team of teachers and therapists.
Favorite experiential
We did a community garden at ECH one summer and the students created "clay protection creatures" to guard the plants. It was really beautiful to see what they kids came up with.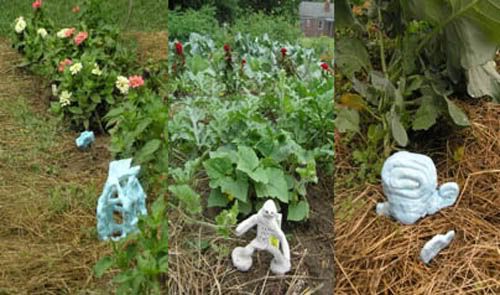 I'm curious how it was for Katy to start work at Evangelical Children's Home (as it was formerly called), since it was established by other art therapists?
It is so cool to work at an organization that has a rich history of art therapy. I feel lucky to get to follow behind Gussie and Floyd Smith. Some of the "longtimers" at ECH have stories of art projects that were done in the past. My favorite is hearing about the wilderness therapy expeditions they embarked upon such as camping in Colorado, caving, doing the ropes coarse (something I got to be a part of with the school kids last summer!), horse back trail rides, and on and on.... I feel like I get to keep the tradition of providing art therapy at ECH alive while getting to chart my own path as the first art therapist at the school.
On a more personal note....I wonder if Katy might comment on being married to a fellow art therapist?
As for being married to a fellow art therapist...I joke with Jason that it ended up being a good thing that he was an alternate the first year he applied to the program and waited an extra year to start at SIUE because we might have just missed each other otherwise. It's nice to be married to someone who truly understands what our work is all about. Another perk is getting to spend time together doing artwork for fun. Sometimes we have to cut off the work talk when we get home, because it's important to have a life outside of our careers! So far we have not applied for the same job, but that would be a pretty funny situation if it ever came up!!
I feel like the luckiest person to be with Jason, he is a gift to me each day!
A MATA member you would like to know more about and a question you have for them
Jen Bruner, TAG you're it!
Jen you recently started your own private art therapy practice, what has the transition from working for an organization to branching out on your own been like?
Also, you have been involved in MATA in a variety of different ways for quite some time, what was your favorite position and why?