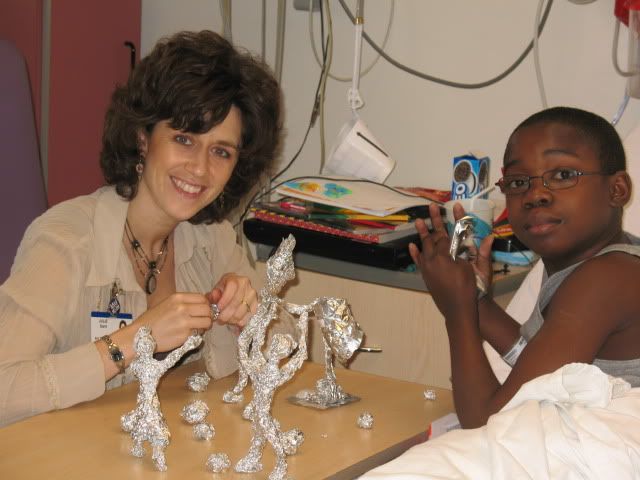 Name
Julie Ann Gant
Favorite color
yellow because it's sunny & bright and feels joyful to me
Describe yourself in 3 words
adventurous, positive, groovy (my kids voted on this one....& I say it all the time)
What inspires you
my family (especially my 3 children, hubby, parents & sister & my 103 year old grandma), nature, music, new opportunities, and my own confidence and self-reliance
Something you are proud of
the wonderful personalities of my children & my relationship with my hubby.
Favorite art medium
media with texture...from yarn to leather to many types of clay and found & natural objects
An artist who inspires you
Andy Goldsworthy
and locally
Zack Smithey
Favorite quote
"Children are likely to live up to what you believe of them." - Lady Bird Johnson
"The most important thing in communication is to hear what isn't being said." - Peter F. Drucker
What brought you to art therapy
The drive to further my education after working in healthcare-related "jobs" for 10 years & subsequently the discovery of the field of art therapy.
Population you work with
Medically ill children and adolescents at St. Louis Children's Hospital. Diagnoses/injuries/illness affect everyone in the family so Children & teens are part of a family, so although my focus is on the child or teen patient I work with family members too.
Favorite experiential
I enjoy using my large tablet of paper to do marble art. Other family members join in (standing around the pad) and paint is dripped around the paper and we try to get the marble or marbles to roll through the paint without falling off. It takes teamwork, communication and the the resulting artwork of marble tracks is cool & fun. Laughter often ensues & laughter is a very good thing in a hospital.
As a mother of three, how does your career as an Art Therapist influence your relationship with your children
Since I do art therapy with children in a hospital, my work causes me to appreciate the fragility of life and cherish every moment with my own children.
A MATA member you would like to know more about and a question you have for them
Katy Bockelman-Sanders—I'm curious how it was for Katy to start work at Evangelical Children's Home (as it was formerly called), since it was established by other art therapists? On a more personal note....I wonder if Katy might comment on being married to a fellow art therapist?