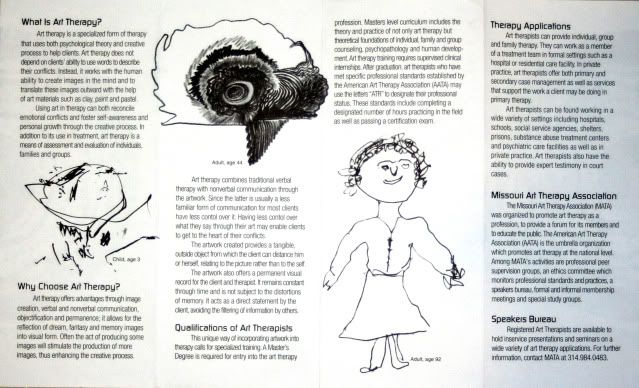 This was one of the first MATA brochures and a valuable piece of MATA history
(to read current information about Art Therapy click here, and about MATA click here)
. Below are images and the text of the brochure.
What is Art Therapy?
Art therapy is a specialized form of therapy that uses both psychological theory and creative process to help clients. Art therapy does not depend on clients' ability to use words to describe their conflicts. Instead, it works with the human ability to create images in the mind and to translate these images outward with the help of art materials such as clay, paint and pastel.
Using art in therapy can both reconcile emotional conflicts and foster self-awareness and personal growth through the creative process. In addition to its use in treatment, art therapy is a means of assessment and evaluation of individuals, families and groups.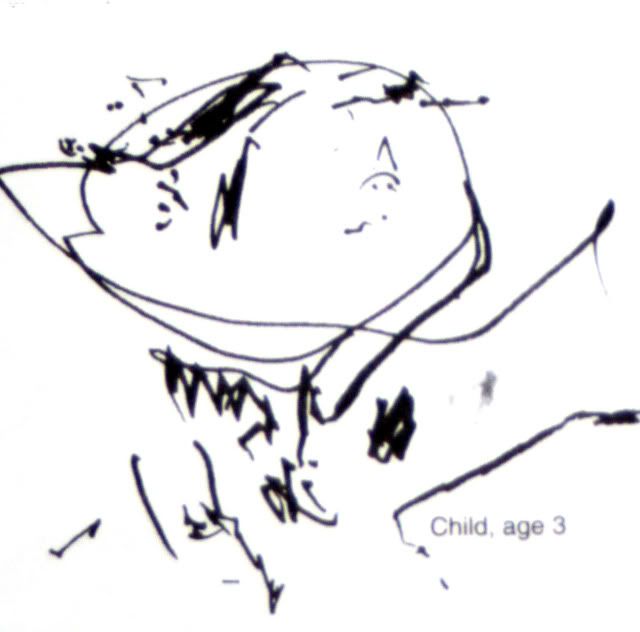 Why Choose Art Therapy?
Art therapy offers advantages through image creation, verbal and nonverbal communication, objectification and permanence; it allows for the reflection of a dream, fantasy and memory images into visual form. Often the act of producing some images will stimulate the production of more images, thus enhancing the creative process.
Art therapy combines traditional verbal therapy with nonverbal communication through the artwork. Since the latter is usually a less familiar form of communication for most, clients have less control over it. Having less control over what they say through their art may enable clients to get to the heart of their conflicts.
The artwork created provides a tangible, outside object from which the client can distance him or herself, relating to the picture rather than to the self.
The artwork also offers a permanent visual record for the client and therapist. It remains constant through time and is not subject to the distortions of memory. It acts as a direct statement by the client, avoiding the filtering of information by others.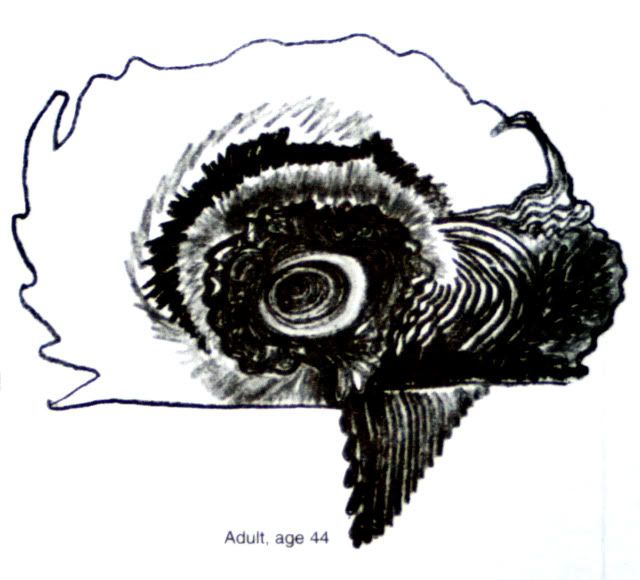 Qualifications of Art Therapists
This unique way of incorporating artwork into therapy calls for specialized training. A Master's Degree is required for entry into the art therapy profession. Master level curriculum includes the theory and practice of not only art therapy but theoretical foundations of individual, family and group counseling, psychopathology and human development. Art therapy training requires supervised clinical internships. After graduation, art therapists who have met specific professional standards established by the American Art Therapy Association (AATA) may use the letters "ATR" to designate their professional status. These standards include completing a designated number of hours practicing in the field as well as passing a certification exam.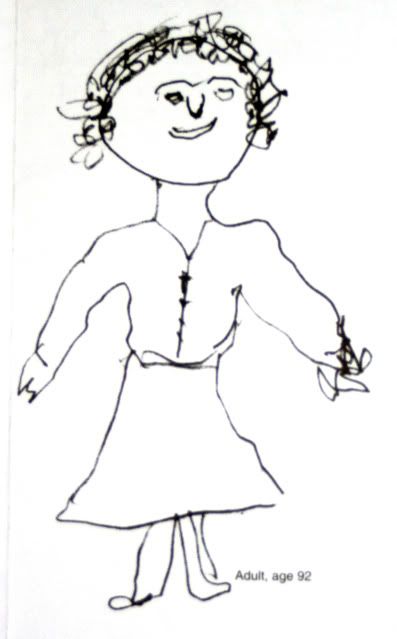 Therapy Applications
Art therapists can provide individual, group and family therapy. They can work as a member of a treatment team in formal settings such as a hospital or residential care facility. In private practice, art therapists offer both primary and secondary case management as well as services that support the work a client may be doing in primary therapy.
Art therapists can be found working in a wide variety of settings including hospitals, schools, social services agencies, shelters, prisons, substance abuse treatment centers and psychiatric care facilities, as well as in private practice. Art therapists also have the ability to provide expert testimony in court cases.
Missouri Art Therapy Association
The Missouri Art Therapy Association (MATA) was organized to promote art therapy as a profession, to provide a forum for its members and to educate the public. The American Art Therapy Association (AATA) is the umbrella organization which promotes art therapy at the national level. Among MATA's activities are professional peer supervision groups, an ethics committee which monitors professional standards and practices, a speaker's bureau, formal and informal membership meetings and specialized study groups.