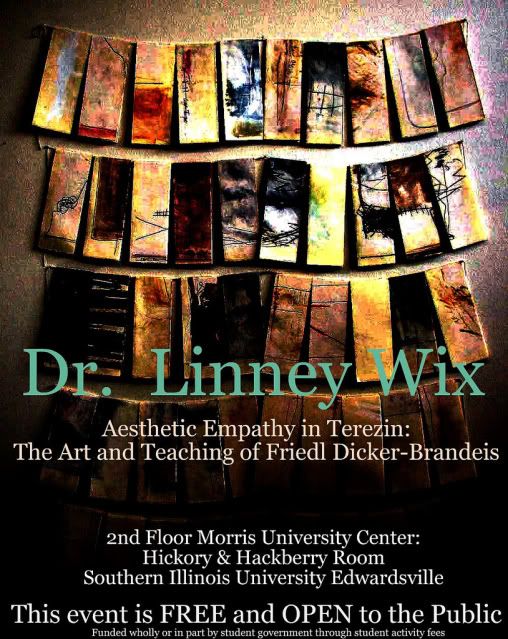 SATA & the Art Therapy Counseling program invite you to attend
the Annual Fall Conference featuring guest lecturer
Dr. Linney Wix
Aesthetic Empathy in Terezin:
The Art and Teaching of Friedl Dicker-Brandeis
Dr. Linney Wix PhD, ATR-BC, LPAT, is an Associate Professor in the Art Education Program at the University of New Mexico, Albuquerque. The lecture by Dr. Wix will concern her research about the work of Friedl Dicker-Brandeis, who taught art to children in Terezin, a "model ghetto" during the Holocaust. Her book, "Through a Narrow Window: Friedl Dicker-Brandeis and her Terezin Students," is scheduled for release this December.
Dr. Wix's research focuses on Dicker-Brandeis and her philosophical approach to teaching art, her methods, and the possible psychological effects of art-making for children in Terezin. Dicker-Brandeis' work is linked to Art History, Art Education, and Art Therapy. She studied at the Bauhaus under Paul Klee and others. She figures in the history of the discipline of Art Therapy in her connection to Edith Kramer, who was one of her students.
November 12, 2010
7:00 pm
2nd Floor Conference Center: Hickory & Hackberry Room
Morris University Center • Southern Illinois University Edwardsville
Funded wholly or in part by student government through student activity fees.
This event is FREE and OPEN to the Public